Calls for Wiltshire man held in Serbian jail to be released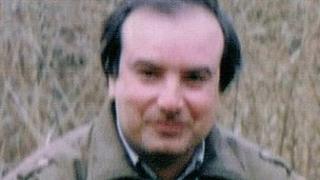 The family of a Wiltshire man held in jail in Serbia for 16 months without trial have called for his release.
Nicholas Djivanovic, 50, from Trowbridge, was arrested in March 2011 on charges of "abuse of office".
Lawyers argue the charges should be dropped because the Serbian government wants to change its law to fall in line with European Union regulations.
Mr Djivanovic's family say he has threatened to go on hunger strike.
'Very worried'
His ex-wife, Celia Djivanovic, said: "Psychologically the uncertainty of when the trial is going to start and whether he can get bail is really telling.
"He's not in great shape mentally. I am very worried. He's threatened to go on hunger strike.
"The physical conditions he's in are not great. It's very cold in the prison in winter - he's frozen - and the food is dire."
The businessman, who has dual British and Serbian nationality, was charged last year with "abuse of office" relating to him allegedly making a profit out of a private business.
Mr Djivanovic's solicitor, Keith Oliver, said he was in poor spirits and becoming "increasingly desperate".
He said: "The trial will commence in August or September. It will take as long as 18 months and he will remain in custody during this period.
"He was talking quite seriously about there being no hope and going on hunger strike. I was left in no doubt that he saw no end in sight. He said to me he thought he was going to die there."
Mr Oliver said conditions in the prison in Belgrade were "as bad as one can possibly contemplate", with five to six people sharing a cell, inadequate sanitary facilities and prisoners only being allowed out of their cells for one hour each day.
South West Lib Dem MEP, Sir Graham Watson, who is campaigning for Mr Djivanovic's release, said the article of law under which Mr Djivanovic had been charged, article 359, had raised concerns in the European Parliament.
He said: "It has been used in some cases to bring people to trial on what appear to be political charges rather than purely legal charges.
"I believe the prosecution case against him to be rather weak and based on a discredited legal base. I hope we can succeed in getting him out soon."
Earlier this year the Serbian government said it would drop article 359 from its statute book following criticism from the European Union because the country is seeking membership of the EU.
A Foreign and Commonwealth Office (FCO) spokesperson said it was were aware of Mr Djivanovic's case and had been in contact with him and his legal representatives.
The spokesman said: "The UK does not normally offer consular assistance to UK dual nationals detained in the country of their other nationality. Consular staff did, however, make a welfare visit to Mr Djivanovic in January and hope to make a further visit shortly."