Former BMA chairman Sir Sandy Macara dies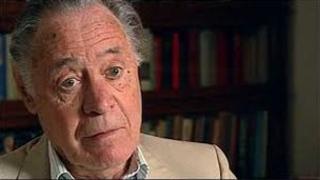 Sir Alexander Macara, the former chairman of the British Medical Association (BMA), has died.
The public health expert, who was known as Sir Sandy Macara, died at his home in Stoke Bishop, Bristol, at the age of 80 on Thursday.
His wife Lady Sylvia Macara said he had been ill with cancer, and died with his family by his side.
He chaired the BMA medical ethics committee, representative body and its council from 1993 until 1998.
In 2009, he called for the MMR jab to be made compulsory after uptake of it fell sharply when controversial research wrongly linked it to a raised risk of autism.
'Leading figure'
He was also a World Health Organisation consultant for over 20 years and chaired the National Heart Forum (NHF), where he was president until his death.
Dr Hamish Meldrum, chairman of the council at the BMA, said paid tribute to him.
"He had been unwell for some time but the medical profession has lost a great doctor and the BMA has lost one of its leading figures from the past 30 years," he said.
"This sad news is particularly poignant coming just before our annual conference, which will not be the same without him.
"We send our sincere condolences to Sylvia and Sandy's family."
The staff and trustees of the NHF said in a statement: "Sandy was a tremendously loyal friend and champion of NHF as both its chairman and its president over the last 13 years.
"All of us who had the privilege of knowing him and working with him over the years are going to miss him very much indeed."
Sir Sandy is survived by Lady Macara and their children Alexandra and James.