Petition calls for Whiteladies Picture House cinema restoration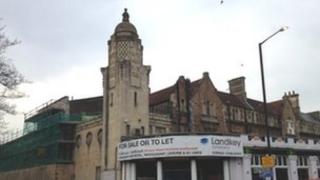 Campaigners hoping to reopen a derelict cinema in Bristol have collected more than 1,200 signatures calling for the venue to be reopened.
The Whiteladies Picture House closed in 2001 and since then a number of different plans have been put forward.
Supporters want to see the Grade II-listed building brought back to life as a cinema and arts centre.
Council planners meet on 27 June to discuss separate plans to turn the building into flats and a gym.
Campaigners say they have a lot of support for their idea and have applied for charitable status in order to apply for money to organisations including English Heritage and the Arts Council.
'Performance area'
In its heyday the cinema could hold about 1,500 but supporters are looking to split the venue into three self-contained and soundproofed areas .
Campaigners want to convert the upstairs ballroom into a function or rehearsal room and turn the balcony it into a performance area.
They hope the income from these two areas will help towards restoration work downstairs where a big stage and screen is planned.
"It's now only a matter of days until the final decision on the current owner's plans for the Picture House are approved or rejected," a spokesman said.
"At this stage we accept we may not be able to affect that decision but that isn't stopping us working hard on making our feelings, and the feelings of all those supporting us, known as widely as possible.
"We are open to suggestions and assistance on making this a viable opportunity for the project, and in turn the future of the Whiteladies Picture House, before it is lost forever."
It started the e-petition on the Bristol City Council website in an attempt to persuade the local authority to help preserve Bristol's "rich cinematic history".
The e-petitions system was set up by the council as a way of letting people who live, work or study in the city to raise issues of public concern.
The building, on Whiteladies Road, was owned by Odeon, who ran it as a three-screen cinema. But it was sold by the company in November 2001 - almost 80 years after it opened.
It has remained empty with the seats ripped out and much of the electrics and plumbing stripped.
Over the years various plans for the site have been mooted including a gym, flats and shops but so far none has come to fruition.