Conservatives name Avon and Somerset police candidate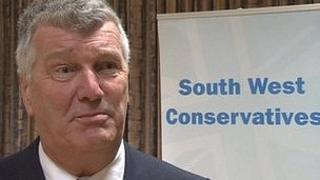 The Conservative party has chosen its official candidate to stand in the Avon and Somerset police commissioner election later this year.
Ken Maddock, the former leader of Somerset County Council, was selected from a shortlist of three candidates by party members at Filton earlier.
The commissioner will oversee the chief constable as well as set the budget and council tax for the police authority.
Labour and Liberal Democrats have yet to decide on their official candidate.
'Ripe for reform'
Mr Maddock stood down from his post at Somerset County Council in April in a bid to become police commissioner.
He said: "That's always what I've been focussing on - I'm delighted to have been selected as the candidate.
"What needed to be done at Somerset County Council was to stretch every pound and make it go further, and in my book that needs to be done in the local police force.
"The business is ripe for reform - that's not to say that they haven't been doing a terrific job in many respects because they have - but we can all learn."
Police and crime commissioners will be elected in 41 areas across England and Wales on 15 November.