Row over Bristol Zoo plan to host Womad concert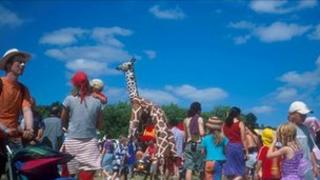 A group that campaigns to protect animals in captivity has called for a music festival planned at Bristol Zoo to be boycotted.
The Captive Animals Protection Society said noise from the Womad festival could jeopardise the animals' welfare.
But the zoo said the event was carefully planned and managed, and every precaution was taken to ensure it will not cause the animals distress.
The festival, celebrating world music, is due to take place on 30 June.
Liz Tyson, director of the animal welfare group, said: "We just think it's irresponsible. We think it's insensitive to the most basic needs of the animals on the basis there will be lots of noise and changes in situation.
"When you're combining alcohol, people potentially behaving unpredictably, it's not necessarily something the zoo would plan but there are predictable outcomes to these things.
"Everyone loves a great festival... but the risk is when you combine that with animals that can't escape that situation.
"If there's any risk whatsoever that would increase stress levels it should be avoided."
The zoo's director, Dr Bryan Carroll, said they also hosted the concert last year and there were no repercussions.
"For about the last 10 years we've had an evening concert of this kind. We've got a lot of experience at running these concerts and making sure everything's OK," he said.
"This is not drugs and alcohol-fuelled teenagers that are the audience of Womad. These are sensible people. They bring their families.
"We've always been very well behaved, but we have security on site, and our keepers monitor the behaviour of the animals and they would alert us if they saw anything that was untoward."