Charity ride planned in memory of mountain biker Alex Kaiser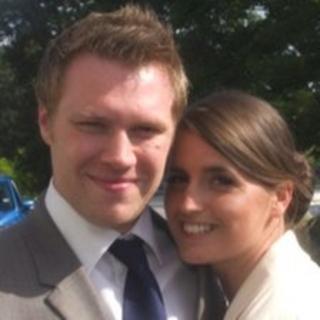 The friends of a mountain biker who was last seen alive practising for a competition are planning a charity bike ride from Manchester to Bristol.
Alex Kaiser, 28, from Bristol, went missing during a practice session ahead of a Welsh Downhill Mountain Biking Association competition last month.
His body was found by police in his van at a car park near the competition venue in Rheola in south Wales.
He was due to marry his fiancee Sarah Hoare on 7 July.
Miss Hoare said Mr Kaiser, an electrical engineer, is believed to have suffered from Hypertrophic Cardiomyopathy.
The disorder, which can be brought on by strenuous exercise, is an enlargement and abnormality of the heart muscle that can cause an abnormal rhythm.
'Fantastic man'
About 35 of Mr Kaiser's friends plan to cycle 185 miles (298km) from Manchester, where he was originally from, to Bristol over three days, with others planning to cycle parts of the route.
They will be raising money for charities the Cardiomyopathy Association and Cardiac Risk in the Young.
Miss Hoare, 29, said: "Alex had an amazing approach to life, he was extremely positive and had a can-do attitude.
"We thought we needed to do something that was active, something that involved bikes.
"I thought doing this kind of cycle ride from the place where he was born and is buried to where we were due to get married would be a really exciting way to remember such a fantastic man.
"He'd absolutely have bought into it straight away and said 'I'll do it in two days, rather than three'."
The riders plan to set off from Manchester on 5 July, and arrive in Bristol for a memorial service at the farm where the couple were due to be married.