Pot donated to a Bristol-based charity's shop sells for £360,000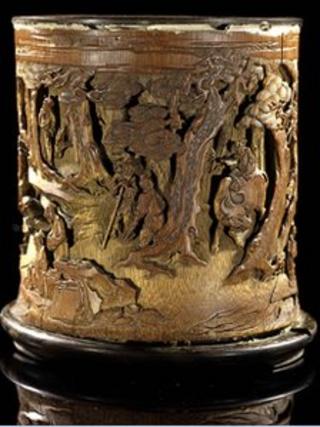 An old carved wooden pot anonymously donated to a charity shop in Bristol has been sold for £360,000.
The 300-year-old Chinese bamboo brushpot was spotted among a donation of wrapped items by workers at a St Peter's Hospice charity shop.
It was sold to a Hong Kong collector at an auction in Salisbury on Wednesday.
Janet Loud, from the charity, said it was "shocked but delighted" that the pot had "far exceeded the amount even experts believed it would raise."
After finding the donation the charity, unsure of what it had, were put in contact with antiques experts at auctioneers Woolley & Wallis.
'Anonymous donor'
A spokeswoman for the auctioneers said Asian Art expert John Axford "confirmed that it was in fact a rare carved 'landscape' bitong, or brushpot, made in China between 1662 and 1722 by one of the most famous artists of the period".
"He also told the charity that it could be worth a significant sum and the charity decided to consign it to the next specialist Asian Art auction," she said.
Janet Loud, head of shops at St Peter's Hospice, said in a statement: "It is a fantastic boost for St Peter's Hospice in these difficult economic times when fund-raising is tough.
"We are grateful not only to the anonymous donor but also to the antiques experts at Clevedon Salerooms and Woolley and Wallis, who achieved such a marvellous result for us through their knowledge."