Portishead mural supports fight for railway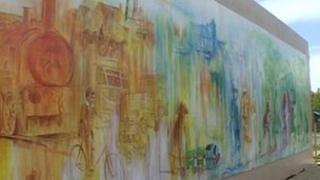 A 40ft (12m) mural has been unveiled in Portishead in support of the fight to reopen its disused railway.
The design tells the "railway story" of the North Somerset town, from 1867 and into the future with trains using the line again.
Local artist Aili Purdy was asked to create the painting by businesses and Portishead Railway Group.
A bid by the council for £43m to reopen a link between Bristol and Portishead was rejected by the government in 2011.
North Somerset Council has said reopening the line is still a "high priority".