Bristol votes in favour of directly-elected mayor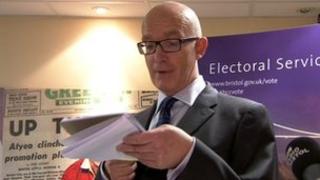 Bristol has voted in favour of a directly-elected mayor to run the city council, by a margin of 5,100 votes.
From a turnout of 24%, 41,032 people voted in favour of a mayor, while 35,880 voted against.
The lowest polling station turnout was at the Register Office in Cabot ward where just 6% of the electorate cast their vote.
An election for the mayor is to be held later in the year.
Ten cities held similar referendums and mayoral elections took place in London, Salford and Liverpool.
A spokesman from the campaign in support of the mayor, said despite the low turnout it was one of the most significant days in Bristol politics in living memory.
"We are thrilled that the Bristolian public have voted for a more democratic form of government.
"From November we will have our very own mayor in charge - someone we can contact and know and someone we can hold accountable for what is happening in Bristol.
"It's a shame that the turnout was not higher. This is in part probably because of a general disillusionment with politics and politicians in the city.
"Our new mayor is going to have to address this malaise and work hard to change the culture in the council house, so that it becomes closer and more responsive to the public," he added.
Liberal Democrat councillor Tim Kent said the choice of a mayor was a "dangerous option" but added he "accepted" the result.
"What we feel as a group is that we need to work with that campaign [in favour of the mayor] to deliver the promises and expectation they built up."
Fellow Lib Dem councillor Steve Comer said it was a disappointing result.
Mr Comer, a member of the Bristol Says No campaign, said: "I think a lot of people who didn't engage with this debate - the majority of the city - felt that if they stayed at home, nothing would change and they are going to wake up and find that it has."
But Bristol West MP Stephen Williams said it was a "major step forward" for the city.
The Liberal Democrat said: "We don't appear to be in that 'premier league' of European cities and we really need to be there.
"What Bristolians have said is 'we want to be there and we want someone to take us there'.
"I think it's a fantastic opportunity for Bristol but it all depends on who people elect."
Mr Williams added that "possibly I might be interested" in taking on the extra responsibility.
Meanwhile, Peter Hammond, leader of Bristol's Labour councillors, announced that he did intend to seek the nomination as his party's candidate for elected mayor.
"There is a clear demand for leadership that can unite Bristol beyond narrow sectional interests across the city," he said.
Campaign group New Fathers for Justice also announced it would be putting a candidate forward for the mayoral ballot.
"We will be campaigning on a shared parenting platform highlighting the injustice of the present family court system," a spokesman said.
All the latest election results are available at bbc.co.uk/vote2012