Bristol's St Pauls Carnival procession cancelled over safety fears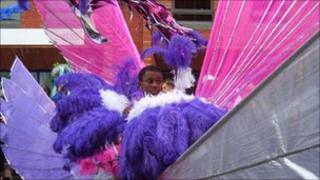 Bristol's St Pauls Carnival procession has been cancelled this year, organisers have said.
A spokesman said the decision had followed uncertainty over the safety of participants and spectators.
He added the decision had been made following meetings with the community, police, Bristol City Council, and the Arts Council.
In February, organisers said this year's festival would be "scaled-back" due to a lack of donations.
"The carnival board look towards continued consultation with, and support from, the local community, fundraisers, promoters and businesses to involve them in the preparation and planning of the 2013 event and future St Pauls Carnivals," he said.
Funding shortfall
"The carnival will continue with its year-round activities in education and costume-making focusing on African and Caribbean arts and culture and is also involved in events based around London 2012," he added.
Bristol City Council said it was "sad" to hear the news of the cancellation but said it was "fully committed" to supporting the carnival in the future.
It said: "As a concrete sign of our commitment, the city council will continue to invest our £55,000 grant this year, so that the carnival committee can carry on work over the coming months to build a bigger, better and financially-sustainable carnival for 2013 onwards."
In February a carnival spokeswoman said that despite funding from Bristol City Council and the Arts Council, there was a £130,000 shortfall.
"To hold this year's carnival and to ensure it is safe and complies with all health and safety and licensing regulations would cost between £30,000 and £50,000 more than last year, which the organisation does not have at this time," she added.
A text donation scheme, launched in 2011, raised just £3,000 towards event costs which saw an estimated 90,000 people attending.
The carnival has been held since 1967, with a break in 2006 when its board was restructured.