Former Bill actor Colin Tarrant killed himself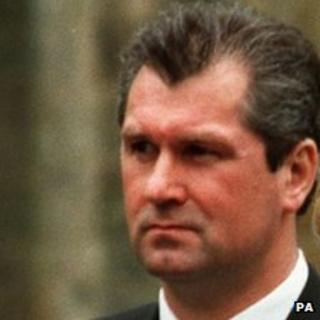 Actor Colin Tarrant took his own life after becoming depressed, a coroner has ruled.
Mr Tarrant, who lived in Bristol, was best known for his role in ITV's police drama The Bill, which was axed in 2010.
Flax Bourton Coroners Court heard how the 59-year-old was found in his bathroom by his partner on 25 January. He died in hospital the following day.
The inquest heard the actor had been trying to sell his home in London without success.
'Extreme behaviour'
Tarrant and his partner, Sabrina Morris, had visited their GP after he had been feeling depressed about his financial problems.
Det Con Adam Smith told the hearing: "Mr Tarrant had not been sleeping and according to Sabrina Morris had become extreme in his behaviour.
"Miss Morris was unable to reason with him and according to Miss Morris, Mr Tarrant had become unwilling to listen to advice on how to deal with the difficulties he was experiencing in selling a property.
"Mr Tarrant was given sleeping tablets and anti-depressants by his doctor.
"As Mr Tarrant left the surgery he received a telephone call informing him that the sale of his property had fallen through for a second time."
Dr Nicholas Ring, Tarrant's GP, had found the actor was suffering from moderately severe depression.
He told the inquest: "I specifically asked him if he had thoughts of suicide but he indicated that although he felt desperate at times he would not consider suicide because of his partner and child."
The GP added that he had wanted to see Tarrant again in a couple of weeks for a follow-up appointment.
Det Con Smith confirmed there was no third-party involvement.
A post-mortem examination found the 59-year-old had died from complications caused by stab wounds.
Tarrant used to play the role of Inspector Andrew Monroe in The Bill and since leaving the series, which ran for 26 years, he had been in a number of shows.
The actor, who was born in Shirebrook, Derbyshire, leaves behind his partner Sabrina and two sons, Juma and Louis.