College Green in Bristol reopens after Occupy protest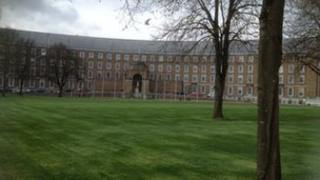 College Green in Bristol will reopen later after an extensive clear-up operation following an Occupy protest.
As part of the work £20,000 of new turf was laid and the area was fenced off from the public for nearly two months to allow it to settle in.
The protesters, part of an international movement calling for a fairer society, had camped on College Green from October to January.
The occasion will be marked with a ribbon cutting ceremony at 12:00 BST.
Councillor Gary Hopkins, said: "This is a much-loved green space in the heart of the city and is once again open and ready to be enjoyed by everyone."
The peaceful eviction of the Occupy Bristol encampment took place on 31 January. Work then began to dig out contaminated soil.
The soil was vacuumed with specialist equipment to remove metals and debris.