Bank of Scotland seeks to end Bristol mansion squat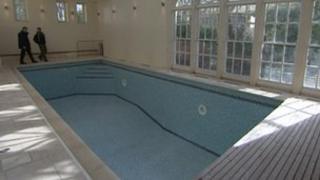 The Bank of Scotland is going to court to try to evict squatters who have moved into an 18th Century mansion it owns in Bristol.
Clifton Wood House, a former university hall of residence, was recently put on the market for more than £2m.
Some of the squatters were involved in the Occupy Bristol protest, but said their "caretaking" of the building was not an official protest.
Police have increased patrols due to neighbours' concerns about safety.
In for tea
The grade II listed property has eight bedrooms, four bathrooms, an indoor swimming pool, vaulted cellar and a gym.
Some neighbours donated furniture and went in for tea when about 12 squatters moved in.
But one woman said: "It's just a great shame for the area. We don't really know who they are and what they plan to do or why they're there, other than to occupy somebody else's home."
An Avon and Somerset Police spokesman said officers were not involved in any eviction process.