Thornbury vicar John Suddard's funeral held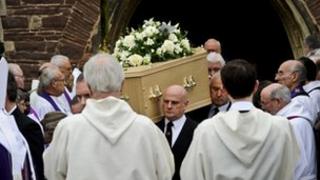 More than 450 people have attended the funeral of vicar John Suddards at the church where he served as the parish priest.
Mr Suddards, 59, was found stabbed to death at his vicarage in Thornbury near Bristol on 14 February.
Stephen Farrow, 47, is accused of murdering him and Betty Yates, 77, from Bewdley in Worcestershire.
The service, a requiem mass, was led by the Bishop of Gloucester, the Right Reverend Michael Perham.
'So touched'
During the service, Mr Suddard's brother-in-law read a tribute that was written by his wife Hilary.
Phil Bosworth said: "As John's family we have great memories of John. Just last Christmas Day he was very happy to sit with a large glass of red wine having enjoyed a good dinner and chuckling at Absolutely Fabulous on TV.
"His visits to us in Dorset were always a 'getaway from it all' time and he enjoyed walking the dog on the beach or taking Hilary and the children on tours of the countryside with a pub lunch on the way."
Mr Suddards had been due to hold the wedding service of his niece later in the year, which Mr Bosworth said he had been "especially looking forward to".
"It seemed right that his funeral should be here at St Mary's at this beautiful church, of which John was so proud, and for which he had such great plans," he said.
"He would be so touched to see so many people here today; family, old and new friends, godchildren, parishioners, colleagues and fellow clergy.
"His loss is keenly felt and he is much missed," added Mr Bosworth.
'Degree of closure'
The Venerable Geoffrey Sidaway, Archdeacon of Gloucester, paid tribute to Mr Suddards.
"John was a lovely man, he was a kind man, a generous man," he said.
"There's a lovely story that he used to light a lamp every night during his Ministry to signal to parishioners he was there for them if they needed him.
"And we now know that made him very vulnerable.
"He was also a very gifted man, a very able man and had a great sense of humour."
Bruce Goodwin, the curate at St Mary's who worked alongside Mr Suddards said: "There have been different ways in which people have tried to remember John.
"We had a service early on, and then a vigil and now the funeral today will be a degree of closure in some ways for some people to come to terms with his death."
Mr Suddards had taken his post in Thornbury last July, having come from the Diocese of Chelmsford in Essex.
The Archdeacon of Cheltenham, the Venerable Robert Springett, took part in Saturday's service which was also attended by friends and members of his former parish.
After the funeral a private cremation was due to take place. His ashes will be interred at his family's grave in Dorset.