Shrien Dewani South Africa extradition is halted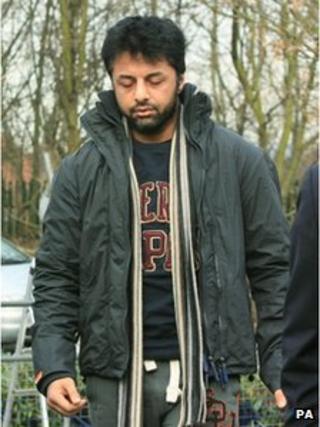 The extradition of a man accused of arranging the murder of his wife while on honeymoon has been temporarily halted on mental health grounds.
Shrien Dewani, a care home owner from Bristol, appealed at the High Court against an extradition order which was granted by a judge in August.
He denies arranging the killing of his wife Anni, who was shot dead in Cape Town, South Africa, in November 2010.
The extradition was previously backed by the Home Secretary Teresa May.
Two High Court judges ruled that it would be "unjust and oppressive" to order Mr Dewani's extradition.
But the court said it was in the interests of justice that he should be extradited "as soon as he is fit" to be tried.
In a statement outside the High Court, Mrs Dewani's sister Ami Denborg said the family "just want him [Mr Dewani] to get better now so he can finally go to South Africa and tell us what happened.
She added: "We just want to know the truth because it is all about our dearest little sister who was murdered."
'Risk of suicide'
Sir John Thomas, president of the Queen's Bench Division, and Mr Justice Ouseley ordered that the case be remitted back to Westminster Magistrates' Court for a further hearing.
The judges said Mr Dewani, who is seen to be unfit to plead at present, was likely to have a speedier recovery if he remained in the UK for the moment.
They added there was a "lack of clear certainty" as to what would happen if he was returned to South Africa in his present condition.
They said the risk of suicide if he went to South Africa was also considered but "to a much lesser degree".
Mr Dewani, 32, has been diagnosed with severe post-traumatic stress disorder and severe depression. His lawyers argue that his health and life will be at risk if he is extradited.
In a statement, Mr Dewani's family welcomed the ruling.
It said: "Shrien can only return to South Africa when he is well enough and when his personal safety can be guaranteed."
Plea bargain
Mrs Dewani, 28, was shot dead when the taxi she was travelling in with her husband was hijacked in the Gugulethu township in Cape Town.
Mr Dewani was released unharmed but his wife's body was later found in the abandoned car.
Mziwamadoda Qwabe and Xolile Mngeni are charged with killing Mrs Dewani.
Taxi driver Zola Tongo, from Cape Town, admitted his part in the killing and has been jailed for 18 years as part of a plea bargain.
A South African court was told last month that Mr Dewani will be added as a fourth suspect if he is extradited.
Sir John said Mr Dewani's depression and post-traumatic stress had worsened after his arrest on 7 December 2010 and on 20 February last year he took an overdose.
He was admitted to the Bristol Royal Infirmary and told staff in the A&E department that he did not want to live, but denied to others that he had attempted suicide.
"The senior district judge found that it was a deliberate overdose to avoid engaging with the extradition proceedings," said Sir John.
Mr Dewani was discharged but, as a condition of his bail, went to the Priory Hospital as an in-patient.
On 11 April last year there was a further deterioration of his condition.
Sir John said Mr Dewani had developed psychotic symptoms and was transferred to a low secure psychiatric unit at Kewstoke, before being sectioned under the 1983 Mental Health Act and admitted to the Fromeside Clinic in Bristol.
"Despite the highest respect in which we hold decisions of the senior district judge [Senior District Judge Howard Riddle], we consider that he erred and should have exercised his powers under section 91(3)(b) and ordered that the extradition hearing be adjourned," he added.