Bristol museum could revert to rail platform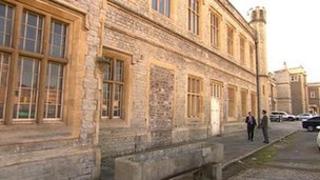 The site of Bristol's British Empire and Commonwealth Museum (BECM) could return to its former purpose as a rail platform for fast trains to London.
It follows a decision by the Museum's trustees to gift its collection of 50,000 artefacts to the city council.
Ownership of the former BECM site, Brunel's Old Station building, is also due to be transferred to the council.
Sir Neil Cossons, from BECM, said he was "delighted" the site may "again be used for its original purpose".
The museum closed in 2008 when it was decided the only way to secure financial backing for the collection was to move it to London.
But in a statement, the museum's trustees have confirmed that "due to major changes in economic circumstances" the proposed move to London is "no longer a viable option and will not be progressed".
The statement continued that "under the new arrangements" the museum's collections "have been transferred by Deed of Gift to the City".
'Restoring rail'
Simon Cook, deputy leader of the Liberal Democrat-run council, said: "We do plan to put [the collection] on show but obviously we have to completely re-configure the City Museum as it is at the moment."
The Grade I listed BECM building has been bought by the Homes and Communities Agency (HCA) and ownership is due to be transferred to the council "to support the delivery of a new creative industries hub and improved transport links in the heart of the city".
David Warburton, regional head of HCA, said it was "vital that Brunel's Old Station is used to its full potential".
He added: "People will be aware that the electrification of the line happens in 2016. There's the opportunity to use some of this building to further enhance that.
"That's one possibility that we're working through with the city council and Network Rail."
A Network Rail spokeswoman said the company sees "there is the potential of restoring disused rail infrastructure that was removed previously".