Bristol men urged to help prevent female genital mutilation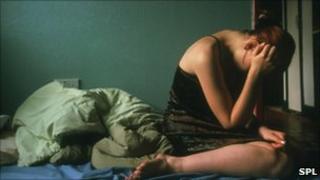 Sessions to encourage men to become involved in helping to prevent acts of female genital mutilation (FGM) will be held in Bristol, it is hoped.
Campaign group Daughters of Eve run workshops for men in London after gaining funding from the Staples Trust.
Now, campaigner Nimco Ali, co-founder of the group, said she hoped to bring the scheme to Bristol.
The Bristol Safeguarding Children Board estimates that up to 2,000 girls in the city are at risk.
More than 120 million women around the world are thought to have undergone FGM, also known as female circumcision.
Illegal in the UK, it is known to be carried out in more than 28 countries, mainly in western and southern Asia, the Middle East, including Yemen and Saudi Arabia, and parts of Africa such as Somalia, Egypt, Ethiopia and Sudan.
It is illegal for British nationals or permanent residents to be taken to another country for the procedure, but some are sent abroad covertly.
'Honest conversation'
The workshops, which started on Saturday and run for five weeks, include topics such as an introduction to FGM, its consequences and the laws surrounding it.
There will also be a men only session, run by a male counsellor and aimed at allowing men to have an "honest conversation".
Ms Ali said while some men thought the matter had nothing to do with them, those who were practising it were carrying out the demands of the leaders of the community, who were men.
"The aim was to start a dialogue with men, find out the issues we have to fight and support men that want to take action to campaign against it [FGM]," she said.
"It's taking those preventative steps, we're trying to get the momentum started.
"We would love to bring it to Bristol and even have a one-day delivery session," she said.
"Men need to be involved in the conversation and play a part in the protection of children and their families."
The World Health Organisation defines FGM as "all procedures that involve partial or total removal of the external female genitalia, or other injury to the female genital organs for non-medical reasons".
Health risks include death from bleeding or tetanus, urinary incontinence, infections and chronic pain.