Yeah but no but: Is the Bristol accent gert lush?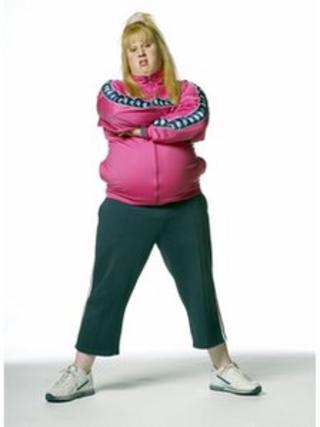 It has been used for centuries to evoke the sound of rural England and simple country folk.
From Hobbits to Hagrid, if you want to portray rustic simplicity it seems the best way to do it is to effect a West Country accent.
More recently it has become the accent of choice for comedy characters like Little Britain's Vicky Pollard and the villagers in comedy film Hot Fuzz.
But is the Bristol way of speaking finally becoming fashionable?
Step out on to the streets of Bristol and you do not have to go very far before you spot somebody wearing a Beast T-shirt.
The clothing company makes a range of items from hats to aprons all featuring Bristol phrases.
For business partners Lucy Wheeler and Andrew Keith-Smith it was all about celebrating the words they had grown up with.
Ark at ee
The business came about when they were at art college.
Ms Wheeler said: "We were fascinated by screen printing but we were both rubbish at it so we bought some basic screen printing apparatus and started printing for friends and family."
As the pair's skills improved they started trading from a stall in St Nicholas Market - 2012 will see them mark their 25th year in business.
The decision to start using Bristol phrases in their designs came about gradually.
"Andy said 'I want to put gert lush on a T-shirt because that's what people say'," she said.
"I said myself and my sister used to say 'alright my luvver' so we did that one too.
"Then a lady came into the shop and saw the T-shirts and said 'ark at ee' so that was the next one we did."
Ms Wheeler said growing up she had been embarrassed by the accent and had subconsciously lost it when she started secondary school and had been teased for the way she spoke.
"I started doing this [making the T-shirts] because I wanted to get back to my roots," she said.
Tangent Books is a Bristol based company which publishes titles on a range of topics including the history and culture of Bristol.
Richard Jones, one of the company's founders, said he moved to the Kingswood area of the city where people spoke with a strong South Gloucestershire accent when he was seven.
He said: "I remember thinking at that young age 'I really don't want to sound like these people'."
But he added perceptions had changed: "Bristol has gone from being full of country bumpkins to the coolest place on the planet and the truth of the matter is that nothing has really changed.
'Laid-back melting pot'
"The accent has always been a burden, but it's far more heard now thanks mainly to Ian Holloway."
Football manager Ian Holloway, currently in charge of Blackpool FC, grew up in Bristol and is well-known among football fans for his off the wall quotes.
He is not the only person credited with bringing the Bristol accent into the mainstream, with comedians Stephen Merchant and Justin Lee Collins also regularly cited as proud Bristolians.
Another proud Bristolian is Harry Stoke who co-wrote a book on Bristol phrases calledA Dictionary of Bristle.
He believes stereotypes of people from the city being less educated are inaccurate.
"Whilst there are plenty of stupid people living in and around the West Country, there are indeed many more who aren't," he said.
British space scientist Prof Colin Pillinger and theoretical physicist Paul Dirac are examples he gives of highly educated Bristolians.
He said perceptions had changed as an acceptance of regional dialects and identities had increased.
And he believes the Bristol accent is here to stay.
"I don't think regional accents will ever fully die out," he said.
"Some older phrases may well fade away with time, as has already been the case, and new ones will come into usage.
"This is an inevitability with the expansion of cities such as Bristol drawing in a population from around the globe.
"Bristol is, and always has been, a laid-back melting pot of cultures and identities, and as a general rule of thumb people are proud to be Bristolians."