South Gloucestershire Council cabinet to be scrapped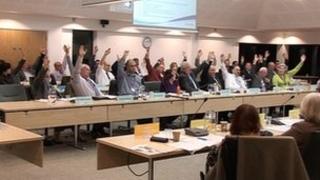 The ruling Conservative cabinet at South Gloucestershire Council will be disbanded following a vote backed by opposition parties.
The move means the authority, based north of Bristol, will be governed by a series of cross-party committees.
The Conservative Party said the move made it a "black day" for the council but the Liberal Democrats said it was an "exciting opportunity".
The new constitution will be adopted from May.
The council has been run as a minority administration by the Conservatives, which had 34 councillors but they were outnumbered by Labour and Liberal Democrats who had 36 members.
'Great decision'
The possibility of change from a cabinet system back to committees was introduced as part of the Localism Act 2011.
Liberal Democrat councillor Pat Hockey said: "This administration's record on public consultation has been awful.
"We've seen the quality of administration produced by one party taking all the cabinet posts, and pushing their will through, and we can do so much better.
"The public were consulted on a budget that had no information. Government gave us the right to choose our own arrangements, and we're now moving to a far better system."
Labour's Andy Perkins said the move was a "great decision for democracy and transparency".
"Now all 70 councillors will have a stake in making decisions," he said.
"The decisions will be made at meetings in public and as we are a hung council there will probably be a fair amount of debate beforehand, which has been entirely lacking here."
'Significant change'
But the council's Conservative leader, John Calway, said years of "listening to residents" had been "thrown away".
"There is no other way of looking at it - this has become a black day for local democracy in South Gloucestershire," he said.
Conservative councillor Matthew Riddle said he was also opposed to the move and said there should have been more consultation.
"Labour and Liberal Democrat councillors are simply not able to look any of their constituents in the eye and say that they asked them what their views were before forcing through such a significant constitutional change," he said.