Gloucestershire County Cricket Club ground plans released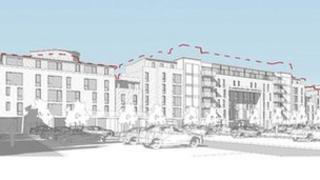 A new planning application to redevelop Gloucestershire County Cricket Club has been put forward by the club.
Earlier this year, Bristol City Council refused an application to expand the Nevil Road site due to the height of the flats included in the scheme.
Changes to the previous plansinclude removing one storey, so the central penthouse level is six storeys high.
The club had considered a move to Filton Airfield to continue to attract international cricket to the city.
A statement from Gloucestershire County Cricket Club said the plans had taken into account feedback from the previously rejected blueprint.
The Liberal Democrat-run authority refused the application by six votes to four at a meeting on 11 January.
Chief Executive Tom Richardson said: "The club is very keen to make the revised plans work.
'Best compromise'
"We have listened to our neighbours and responded to concerns raised by the planning committee and see the new proposal as the best possible compromise.
"It is very important to us that we hear what the local community and our neighbours think about our plans."
Mr Richardson said the club was looking for feedback on the changes in a bid to finalise the proposals before submitting a new application.
In order to accommodate the 12 flats removed through the reduction in height, the club said the new plans would see the building extended at the Kennington Avenue end.
The expansion would ensure all 147 flats needed for the development can still go ahead, it said.
Further improvements at Ashley Down include increasing the capacity of the stand to 17,000 seats, the building of a new media centre and a general upgrading of facilities.
Bridging loan
It comes as the two organisations agreed a £400,000 bridging loan until the outcome of a planning application is resolved.
The club said the temporary secured loan between itself and Bristol City Council would be repaid regardless of any outcome of the planning application.
Simon Cook, Liberal Democrat cabinet member for culture, sport and capital projects, said: "We understand how important sport is for the successful infrastructure of the region and have always been supportive of the cricket club in their ambition to retain international cricket at the Nevil Road ground.
"Offering a loan is a pragmatic way we can help over the next few months while they work on the development plans for the ground.
"[It] does not in any way prejudice the council's independent planning decision making process."