Government accused of blackmail over Bristol elected mayor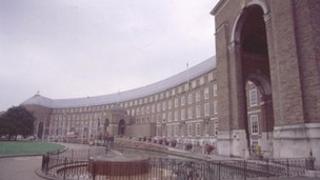 The government has been accused of "blackmailing" voters into choosing an elected mayor at a referendum in May.
Cities Minister Greg Clark said he would only be willing to devolve more powers to Bristol if its model of political leadership was made stronger.
"An elected mayor meets that test," he said.
Simon Cook, deputy leader of the Liberal Democrat-run Bristol City Council, said the government's actions amounted to blackmail.
Conservative Mr Clark told the BBC that an elected mayor would give Bristol a greater international standing and stop it being one of the country's "best-kept secrets".
He said: "In the city deals prospectus that we put out, we said we need to be convinced that the city has a strong enough leadership. An elected mayor meets that test."
He said that Bristol's leadership needed to be stronger.
"I think that over recent times, the way that the council has operated doesn't accord to our view of the strength and confidence of leadership that we want to see to take powers that are currently vested in the hands of government and parliament and put in their hands locally," Mr Clark said.
"I've no comment or criticism on the current leadership... the way that local government has lost powers, the structure of local government I think needs to be corrected, it needs to be much stronger.
"That's why we're introducing these mayoral referenda."
He said the government was happy to consider other alternatives.
"But what is clear and Leicester's made this decision, Liverpool's made this decision, an elected mayor meets that test," he added.
Liberal Democrat Mr Cook said: "I think that the worrying thing is that the government are in effect blackmailing us.
"They're saying either have a mayor and get some more determination over your own business or if you don't you won't.
"I don't think it's right to try and bribe the electorate of Bristol into voting for what the government perceives to be the right system of governance as against what the people of Bristol might think."
Barbara Janke, leader of the council, said she was "absolutely amazed that the goal posts seem to have been moved".
Council officers were "completely astonished", she added.
Ms Janke said she had written to Mr Clark and would meet him on 26 March to discuss the issue.
On 3 May people in 10 cities will be given the opportunity to decide whether they want an elected mayor.
If a city votes in favour in the referendum, elections for mayors would then happen on 15 November.
Mayors would be elected for four-year terms.