Petition is handed to council to keep crematorium cross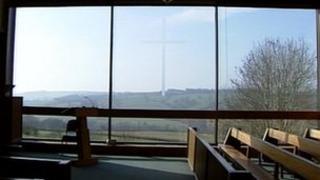 A 4,000-strong petition is to be handed to the council to save a window etched with a cross at a crematorium in Bath.
Bath and North East Somerset Council plans to replace the window at Haycombe Chapel as part of a revamp, and to make it more accessible for all faiths.
Campaigner, Hugh Mackay, said: "Taking down the cross from the Chapel just turns it into a cremation room."
Despite its name, Haycombe Chapel is not a consecrated space and is not a church or church-owned building.
'Just a symbol'
About £140,000 will be spent replacing the windows and carpets and installing a new sound system.
A spokesman for the council said: "Following consultation with local funeral directors, ministers and taking into account our own feedback from customers, the consensus was that the Chapel should be a setting where all faiths, including those who are not religious at all, can adapt the surroundings to suit the wishes of their loved ones.
"In line with this consensus, the replacement window will be plain.
"The council's Bereavement Services Team will discuss with all families and funeral directors ways to provide a suitable environment for any service.
"This could include providing removable crosses or any other symbol that a family feel is appropriate."
The cross-etched window has been at the crematorium since it was built 50 years ago.
Mr Mackay said: "It's got the point where we fear the dismantling of Christian heritage and freedom of choice to worship God in this country.
"I believe everybody has a right to what they want, but why is the cross so offensive? It's just a symbol of our religion and our country."
The council said refurbishment will go ahead as it was an operational decision which would not normally go to public consultation.