Bristol City's Ashton Vale stadium pay off claims made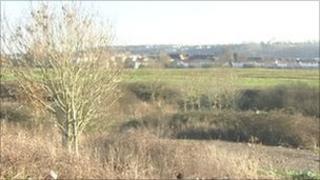 An allegation that money may have changed hands to stop the legal fight against Bristol City's new stadium, has been made in court submissions.
High Court papers, seen by the BBC, contain an allegation which suggests a businessman might have paid a man behind judicial review proceedings.
The football club wants to build a stadium at Ashton Vale but protesters want the land made into a town green.
Club chairman Colin Sexstone called it an "unsubstantiated allegation".
"To answer unsubstantiated rumours is a bit of a nonsense but we have not been involved in anything underhand at all," he added.
'Substantial sums'
The individual who launched the judicial review proceedings changed his mind last month and stepped aside.
He gave the reason that he now believes a stadium would help create jobs for young people in Bristol and that a stadium would be for "the greater good of many".
However the court papers, submitted by the solicitors for the town green campaigners, claim there may have been "offers of substantial sums of money" from an unnamed "businessman with interests in the development" of Ashton Vale to persuade the person behind the judicial review to drop his case.
The individual cannot be named as he is protected by a court order and the alleged businessman is not named in the court papers.
A decision from a High Court judge as to whether the legal case can be taken on by someone else is being awaited.
If the judge says no review can go ahead then the club can get on with building the stadium, otherwise a judicial review would be held in London or Cardiff in May.
The stadium was originally granted planning permission in 2009 before an independent inquiry which said the land should be made a town green.
Last year a Bristol City Council committee said only half the land could be a town green, with the other half to be used for the stadium.