Sister's tribute to Thornbury vicar John Suddards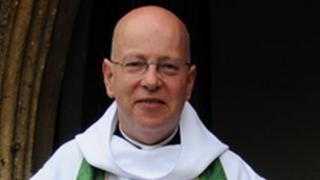 The sister of a vicar who was found stabbed at his home in South Gloucestershire has paid tribute to "a dear brother and much loved uncle".
Hilary Bosworth, from Bridport, Dorset, said the Reverend John Suddards' family were "struggling to come to terms with his tragic and untimely death".
Mr Suddards, 59, was found dead at his vicarage in Thornbury on 14 February.
Stephen Farrow, 47, is accused of murdering him and Betty Yates, 77, from Bewdley in Worcestershire.
Mr Suddards was found stabbed to death in his vicarage at St Mary's Church.
Mrs Yates was found stabbed in her cottage on 2 January.
'Dear brother'
Mrs Bosworth said her brother's death had "shocked all those who knew John, to the core".
"He was my only sibling, a dear brother and much loved uncle to my three children," she said.
"We miss his warm smile, his wisdom and his wicked sense of humour.
"He was admired for his clearness of vision, his intellect, his great humanity and understanding of the suffering of others. He believed in being there for any person in need.
"That such a modest, unassuming and peaceful man could die in such terrible circumstances is unimaginably hard to accept.
"It has turned our world upside down and put us in a situation where the one person to whom we would normally turn for help, has been taken from us.
"However we have at all times been encouraged by the love and support of John's colleagues, friends and parishioners, whom we would like to thank most sincerely for their messages of condolence and letters telling us what John meant to them."
Former barrister
She also thanked Det Ch Insp Simon Crisp and his team at Avon and Somerset Police.
Mr Suddards, a former barrister, joined the clergy 22 years ago.
He moved to the Thornbury parish six months ago, having served at St Nicolas Church in Witham, Essex, for 10 years and before that at Great Yeldham parish, also in Essex.
"When John made the decision to become a priest, he told people that he felt he could help others more effectively as a priest than as a barrister," Mrs Bosworth said.
"This change of career was no surprise to me; John had always attended church and had a strong Christian faith.
"Even as a little boy, he preferred castles and churches to sport or beaches and went to Sunday services more enthusiastically than the rest of the family.
"It seems fitting that his funeral will be held at St Mary's in Thornbury, a beautiful grade I listed Norman church with a castle next to it."
Mr Farrow, of no fixed abode, is accused of murdering Mr Suddards between February 13 and 15 and murdering Mrs Yates between January 1 and 5.
He also faces a charge of burglary relating to a separate property in Thornbury between 21 December 21 and 3 January.
He is due to appear at Bristol Crown Court on 9 March.