Bristol's St Pauls Carnival to be 'scaled back'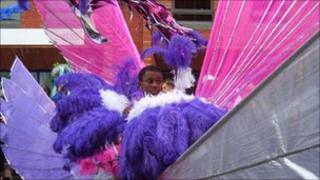 A long-running Bristol festival will be "scaled back" this year due to a lack of donations, organisers have said.
The 2012 St Pauls Carnival will be relocated to Portland Square with fewer performance stages and sound systems moved to indoor venues.
A spokesman said that despite funding from Bristol City Council and the Arts Council, there was a £130,000 shortfall.
A text donation scheme launched in 2011 raised just £3,000 towards event costs.
Carnival committee chair Rebecca Gibbs said: "Carnival supporters are aware that if they wish to see the carnival grow they must make a small individual financial contribution towards that growth."
About 90,000 people attended the St Pauls Carnival in July 2011, which Ms Gibbs said cost £250,000 to stage.
"To hold this year's carnival and to ensure it is safe and complies with all health and safety and licensing regulations would cost between £30,000 and £50,000 more than last year, which the organisation does not have at this time," she said.
"It is for these reasons that we have decided that this year's daytime event will have to be scaled back to give the organisation a chance to pre-empt its potential losses and ensure its survival in these challenging economic times."