Clergy told by Diocese of Bristol to 'review safety'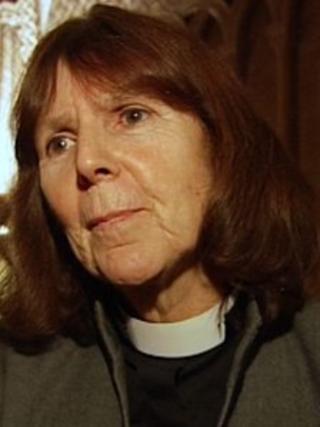 Clergy and church workers have been urged to review measures to protect their safety following the stabbing to death of the vicar of Thornbury.
Bristol Diocesan Archdeacon, the Venerable Christine Froude, has written to clergy in the diocese following the killing of the Reverend John Suddards.
It has emerged that Mr Suddards spoke last year of accepting the risks of an open door policy.
Stephen Farrow, 47, is accused of the murder of Mr Suddards.
He is also charged with the murder of Betty Yates, 77, who was found stabbed in her cottage in Bewdley, Worcestershire, on 4 January.
Mr Farrow was remanded in custody until 9 March.
'Risky behaviour'
In her letter the archdeacon said the diocese's first thoughts were with the church family and community.
But this "horrific event" was also a reminder of "our own vulnerability".
"I would urge you to review the measures you have in place to protect yourself as you go about your work and encourage you to discuss these issues openly and sensitively with others in positions of leadership or public ministry in your parishes or workplaces," she added.
Speaking about the church's open door policy to the Thornbury-based community radio station Gloss FM, in October 2011, Mr Suddards said Christianity sometimes involved taking risks.
"We believe those are the risks we are called upon to take," he added.
The Somerset-based training organisation National Churchwatch has also called on vicars to be more aware of dangers.
Coordinator Nick Tolson said: "In every seminar that I run, a vicar will tell a story of being punched, stabbed, shoved, harassed or abused by someone they were trying to help and often these incidents have gone unreported."
Mr Tolson, a former police officer who used to be a verger, said "We do not believe in stopping clergy from risky behaviour as helping people on the extremes of society is part of their vocation.
"But what is really important is they take action to lower risk and recognise when a difficult situation is becoming dangerous."
He added the church nationally needed to pay more attention to assessing risks to individual clergy and there should be formal records kept of incidents or near misses.
Professor Jonathan Gabe, of the Department of Criminology and Sociology at Royal Holloway, University of London, said he believed guidelines and advice should be offered to all clergy and their families about how to handle violence and training on personal safety should be offered regularly.
He led research into violence against Anglican clergy between 2000 and 2002.
"I suspect that data on acts of violence against clergy have been collected by dioceses since but that this has not been done as systematically as it might have been and not used to inform a coherent policy of risk minimisation," he added.
You can see the full report fromInside Out Weston the BBC iPlayer.