Parents call for more school places in south Bristol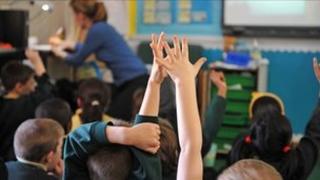 Parents in south Bristol have held a public meeting over the shortage of primary school places locally.
They are worried their children may be sent to schools outside the Bedminster and Southville areas because of the continuing shortage of places.
Campaigner Lorna Covington said: "We are hoping for the council and local school to be able to update us on the situation. We are all pretty worried."
The city council has said it is finding ways to accommodate pupils locally.
'New school buildings'
A spokesman for the council said: "A number of options are being considered to provide an extra class at Southville Primary and the school has agreed to this in principle.
"We are looking at removing some small buildings and replacing them with a temporary classroom while a permanent scheme is developed.
"In addition, the council is investigating a number of sites in the Southville and Bedminster areas with a view to providing new school buildings. However, none of these are available for September this year."
In recent months Bristol City Council has received about £40m of emergency government funding to provide more school places.
The council has forecast an extra 3,000 children in primary schools by 2015 and with planned housing, a possible increase of 5,000.
The council also said extra places had been made at Compass Point Primary and Ashton Gate Primary, where both schools were also looking into more long-term ways of accommodating more youngsters.
The meeting took place at the Tobacco Factory on Sunday night.