Bristol's parking camera leads to 510 fines in a fortnight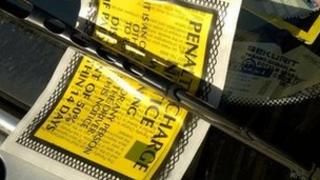 A mobile enforcement car to catch drivers in Bristol who park illegally has led to 510 issued penalty notices in the first two weeks of operation.
In the week before February half-term, 280 notices were handed to those parking illegally outside schools on white zig zag lines.
During the week-long break, the car focused on loading bays and bus stops which resulted in 230 penalties.
The penalty for illegal parking is £70, reduced to £35 if paid within 21 days.
Bus stops
A spokesman for the city council said: "People get a little used not getting caught, but once they do, we are expecting the numbers to fall away quite dramatically."
The unitary authority also said any revenue raised from the penalty notices would be spent on getting more zig zag lines painted outside schools in Bristol and making those areas legally enforceable.
The £36,000 car has a camera which snaps people who park on bus stops, zig zag lines outside schools and loading bays.
A two-week grace period was allowed where caught drivers were issued with warning notices. Penalty notices were handed out from 30 January onwards.
There are no plans to bring in another car at present, the city council has said.