Bristol elected mayor idea has been debated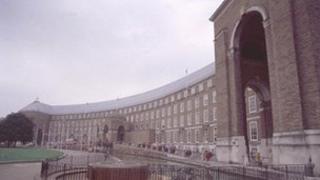 The idea of an elected mayor for Bristol has been debated in the city.
Hundreds of people attended the event at the Council House, which featured two speakers for the idea and two against.
After the formal debate, a poll taken in the room found 47% of people were in favour of the idea, 36% were against, and 17% not sure.
Voters will be asked to approve the change in a referendum scheduled for 3 May.
If approved, elections for mayors in 10 of England's biggest cities will happen on 15 November.
'Greater sway'
The other cities affected are Birmingham, Bradford, Coventry, Leeds, Manchester, Newcastle, Nottingham, Sheffield and Wakefield.
A vote to elect a mayor in Liverpool will take place on 3 May after the council there agreed to go ahead without a referendum.
Earlier, David Cameron told the Commons that he would like voters in Bristol to opt to have an elected mayor.
He said: "I'm hugely encouraged by what has happened in Liverpool recently, we'll be having these referenda and people in Bristol will have their chance to make that choice.
"But at the same time, what people I think haven't entirely noticed is the government is going through a huge act of devolution to cities in terms of the powers and the money that we're prepared to offer them so they can build their own futures."
Liberal Democrat Stephen Williams, the Bristol West MP, has said he would carry on doing his current job if he were to be elected as mayor of Bristol.
Having already expressed interest in the post, he said he believed remaining as MP while serving as Bristol's mayor would give him greater sway with the government.