Wiltshire police chief Brian Moore 'will be greatly missed'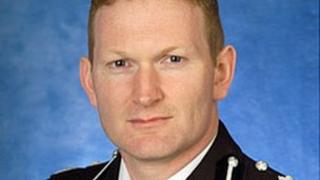 Wiltshire Police's chief constable will be "greatly missed" when he begins his new job as head of the UK Border Force, Wiltshire Police Authority has said.
Home Secretary Theresa May announced that Brian Moore would step down at the end of February to lead the new body.
The police authority said the current deputy chief would act as chief until a replacement was appointed.
Wiltshire's Police Commissioner will make the appointment after they are elected in November.
The police authority said it would be one of the first tasks of the holder of the new role.
Chairman Christopher Hoare said: "We are supporting this secondment of Brian Moore to the UK Border Force where he will be engaged in work of national importance.
"We are sure he will make an invaluable contribution, and felt that his skills and experience should be made available in the national interest.
"Brian became Wiltshire's chief constable in January 2008 and under his leadership Wiltshire has become the safest county in England and Wales.
"We know he will be greatly missed by the public, Wiltshire Police and our partners.
"WPA recognises, and is very grateful for, Brian's outstanding contribution to the policing of Wiltshire and Swindon."