Ashfield Young Offenders Institution restraint rates 'up nine-fold'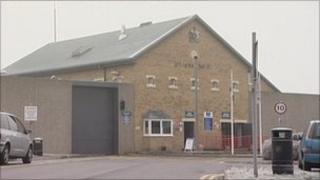 A young offenders institution (YOI) has been criticised for its "extremely high" use of restraint on detainees.
The Howard League for Penal Reform said there had been an almost nine-fold rise in restraint used in a year at Ashfield YOI.
Its chief executive Frances Crook said there were "many incidents of strip searching children unnecessarily".
The director of HMP and YOI Ashfield, near Bristol, said the inspectors had recognised progress made in many areas.
The report acknowledged "the majority of incidents did not involve the use of full control and restraint".
The report by HM Inspectorate of Prisons is on the findings of an unannounced short follow-up inspection at the institution, last October.
Inspectors found force had been used almost 150 times a month in the 12 months to October last year, compared with an average of 17 times a month at the time of the previous inspection, in May 2010.
Ms Crook said she was particularly concerned over the use of force having "chilling echoes" of the death of 15-year-old Gareth Myatt.
Gareth, from Stoke-on-Trent, choked to death at Rainsbrook Secure Training Centre near Daventry, Northamptonshire, in 2004, while being restrained.
However, despite the significant increase in the use of force, the report showed monitoring of its use was "wide-ranging".
Managers said the rise reflected a larger population and was also due to better reporting of such incidents, although this second assertion was difficult to prove.
Where non-compliance was used as the reason for restraint, a small sample that was analysed backed up managers' assertions that it was used to prevent fights escalating between young people.
"In five of six months, failure to obey staff instructions was frequently recorded as the issue leading to the use of force," said Ms Crook.
'History of failing'
"Only three years ago the institution recorded more than 600 attacks on inmates in one year - the highest number of every jail, including adults, in the country.
"This jail has a history of failing children and the public."
At the time of the 2010 inspection, the institution was only half full.
During the latest visit, inspectors noted "young people reported feeling less safe".
Commenting on the findings Nick Hardwick, chief inspector of prisons, said Ashfield had made "progress in some important areas despite a significant increase in the population" but "some staff lacked confidence in challenging poor behaviour".
Brian Anderson, director of HMP and YOI Ashfield said: "The safety and wellbeing of the young people in our care is our top priority, and we are pleased that the inspectors have commended the excellence of healthcare provision and the robust measures we have in place to tackle bullying and reduce self harm.
'Room for improvement'
"They also recognise the progress made in many other important areas such as education and training, care and management of looked-after children, family support, control of substance abuse and the quality of accommodation.
"This performance was achieved against a backdrop of a 50% increase in Ashfield's population since the previous inspection in 2010, which, as the report acknowledges, has caused a number of challenges.
"The report points out where there is still room for improvement, both within Ashfield and in the wider youth justice system, and we are working with the Youth Justice Board and the Ministry of Justice to address these recommendations."
Ashfield holds male youths aged from 15 to 18 who have been detained or are on remand, who have been dealt with in courts from west Wales to London.