Man arrested over death of Thornbury vicar John Suddards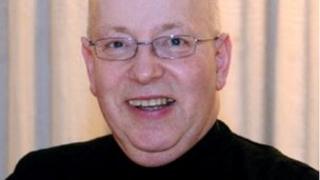 A 43-year-old man has been arrested on suspicion of murder after a vicar was found dead.
The body of the Reverend John Suddards, 59, a former barrister, was found by builders at the vicarage in Thornbury near Bristol on Tuesday.
Avon and Somerset Police said builders had made the discovery after being given a key to the property.
A post-mortem examination revealed Mr Suddards had died from "multiple stab wounds".
Det Ch Insp Simon Crisp said officers did not have a good understanding of his friends and family at present.
'Come forward'
He appealed for people who went to St Mary's church and who knew Mr Suddards to come forward.
"I would like the help of the people who live in Thornbury," he said.
"The reverend had only lived here a few months.
"In particular, I would be keen to speak to anybody who saw the reverend after 12.30pm on Monday.
"Please don't let it rest on your conscience if you know something and you haven't told us, however small."
The Ven Geoffrey Sidaway, archdeacon of Gloucester, said: "It may, of course, be some weeks or months before a funeral can take place and so the Bishop of Gloucester will be coming to Thornbury on Friday evening for a short service and to show his solidarity to the people of this church and community at what is an incredibly difficult time.
"Sadly this event highlights the vulnerable nature of parish ministry in some of our communities today," he added.
When asked if he thought the murderer could be a member of the parish, Mr Sidaway said: "I don't have that at all.
"But many clergy on a daily basis open their homes and their churches to people and clearly that can put them in a vulnerable situation."
'Much loved'
The Bishop of Tewkesbury, the Right Reverend John Went said: "Our hearts go out to John's immediate family and close friends."
Earlier, a Eucharist service took place at nearby St Paul's Church, which is also part of Thornbury parish, where prayers were said.
Mr Suddards had joined the clergy 22 years ago following a serious car crash.
The vicar had only arrived recently to work in the Bristol area from the Diocese of Chelmsford in Essex.
The Reverend Simon Garwood, vicar at St Nicolas in Witham, Mr Suddards' former parish, said: "He had served in the area for 10 years and was much loved.
"He was absolutely devoted to the church and worked extremely hard. He gave a lot of himself for the church."
John Goodman, mayor of Witham, said he and his wife had attended the church on special occasions such as Christmas.
"He was a very quiet man who kept himself to himself but he was devoted to the church and was a very well-liked rector," he said.
Phil Barlow, a former mayor of Witham, said Mr Suddards had married his daughter and son-in-law.
"He was a family friend and was always very people-oriented," Mr Barlow said.
"Although he had a senior position in the church in Witham, his pastoral work is what people will remember him for.
"He cared for people and supported them. He was always kind and compassionate."