Thornbury vicar John Suddards 'suffered knife wounds'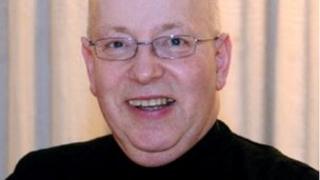 A vicar who was found dead at his vicarage near Bristol is understood to have suffered knife wounds.
The body of the Reverend John Suddards, a former barrister, was found by builders at the property on Castle Street on Tuesday.
Avon and Somerset Police said the builders, on a planned job, had been given a key by a caretaker.
A post-mortem examination has been held but the results have not yet been released by police.
Officers are treating the death as suspicious but said the investigation was at "an early stage".
'Shocked and saddened'
Det Ch Insp Simon Crisp said a pathologist and a forensic scientist were assessing the scene.
"A full search and examination of the property will take place and we're determined to find the cause of the death," he said.
Mr Suddards, a clergyman of 22 years, joined the church following a serious car accident.
He started working at St Mary's church, part of the Thornbury parish which also includes St Pauls church, in the past year.
He is understood to have moved to the area from a parish in Witham, Essex, in the summer.
The Bishop of Gloucester, the Right Reverend Michael Perham, and the Bishop of Tewkesbury, the Right Reverend John Went, said they were "shocked and saddened" over the news.
"The Diocese of Gloucester will do everything it can to assist the police in their investigations," they said in a joint statement.
"We are continuing to hold the community in our prayers."
'Total horror'
At a eucharist service at St Paul's Church on Wednesday, Bishop Went said "our hearts very much go out" to the church community in the town.
The service had been moved from St Mary's which was still within a police cordon.
One woman, who lives near the church but did not want to be named, said she felt "total horror that such a gentle guy could have such an end".
"This is such a quiet little corner. We're like our own village here, it's quite an idyllic spot."
She said Mr Suddards was very popular in Essex and when he came to Thorbury for his induction service a coach-load of people came with him.
John Lopeman, 82, said: "I come this way every day. You don't expect this type of thing to happen."
The Reverend Simon Garwood, vicar at St Nicolas in Witham, said: "He had served in the area for 10 years and was much loved.
"He was absolutely devoted to the church and worked extremely hard. He gave a lot of himself for the church."
'Quiet man'
John Goodman, mayor of Witham, said he and his wife had attended the church on special occasions such as Christmas.
"He was a very quiet man who kept himself to himself but he was devoted to the church and was a very well-liked rector," he said.
Gill Brook, the mayor of Thornbury, said the death was very unusual for the small town.
"I've lived here 37 years and nothing like this has happened here," she said.
"I was in the High Street at 10:30 when the police cars went past and we got the news of what had happened."
She added that Mr Suddards was a "very quiet, unassuming man".
"The last time I saw him was about 10 days ago at a reception for the Catholic priest that was leaving and he seemed perfectly fine then."
Jacqueline Pillinger, 68, whose daughter works nearby, said: "This area is lovely, I'm very surprised anything like this has happened."