Bristol's College Green work to cost £4,000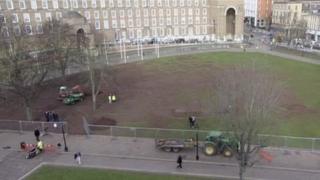 Two contractors have offered to returf Bristol's College Green at a substantial discount from the previously-estimated cost.
The green is being cleared up after Occupy protesters, who had been camped there for three months, left in January.
The city council estimated that returfing the green would cost £20,000.
But the two horticultural firms have offered to undertake the work for £4,000, excluding VAT.
The land is owned by Bristol Cathedral but maintained by the city council.
'Mix and match'
The protesters, part of an international movement calling for a fairer society, had been camped on College Green since 15 October.
One person was moved off by bailiffs on 31 January. Other occupiers left the site voluntarily after a county court ruling said they should be made to go.
Work to remove contaminated soil and debris and scan for metal objects began on Tuesday.
The returfing, which will be undertaken by Craig West Turf and Elmtree Garden Contractors, along with the council's landscaping service, will begin over the next few weeks, the spokesman said.
It is expected to be finished by the end of February and the green is due to open to the public at the beginning of April.