Demolition of Gloucester Road 'eyesore' under way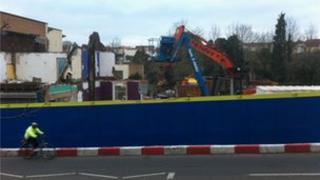 Demolition along a stretch of the Gloucester Road in Bristol that has been described as a "local eyesore" has begun.
The area, known locally as Pigsty Hill, was once occupied by a number of independent shops but has been derelict for more than 20 years.
Bristol Community Housing Foundation is building 24 new flats and town houses on a stretch of the road.
Its chief executive said there was a "huge need" for affordable homes.
Oona Goldsworthy, chief executive of Bristol Community Housing Foundation, said: "I can't tell you how desperately Bristol needs new homes.
"For every home that we put on, we have about 300 people wanting it.
"Rents are going up so much in the private sector and people can't get on the housing ladder.
"They desperately need new affordable homes and this is a very small contribution towards that."