Compromise urged over Ashton Vale town green bid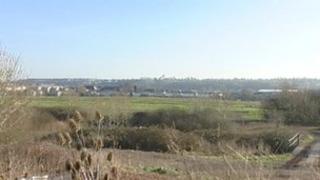 A deputy council leader has called for an "honourable" compromise over land earmarked for a football stadium.
Bristol City Council ruled part of Ashton Vale could be used for a stadium for Bristol City but campaigners want it entirely made into a town green.
A High Court judge has ruled there should be a judicial review into the council's decision.
Councillor Simon Cook said he wanted to resolve any issues and campaigners said they would listen to any proposals.
"If the council has a proposal in mind then we of course would consider it," said the campaigners in a statement.
"In the meantime, a judge of the High Court has considered that our claim has merit and has ordered that there be a full hearing."
'Room for compromise'
Bristol City Football Club had applied - and been given - planning permission for the 30,000-seater stadium in 2009.
But in 2010 an independent inspector said Ashton Vale should become a town green though this plan was later rejected by the council.
The latest attempt at an olive branch from the council comes after the judge heading the judicial review urged both sides to avoid a court hearing.
Mr Justice Collins said: "Surely there is room in 42 acres for some compromise to avoid unnecessary cost."
Previously, the city council has spent almost £60,000 on mediation costs in a bid to resolve the dispute.
'One person'
Deputy council leader Mr Cook said: "The judge who first considered that single resident's application to the court urged all parties to compromise.
"If this one local person who is taking us to court wants to stop a process costing huge amounts of tax payers' money... we are ready to look at whatever he or she wants to come back and ask for."
But the lawyers acting for the campaigners denied Mr Cook's claims that only one person was behind the action.
"The claimant is supported by a broad group of local residents and people concerned with protecting the green belt and open space for public use," they said.
The lawyers said this included Long Ashton Parish Council which has earmarked £20,000 to back the town green bid.