Bidders sought for council-owned wind project at Avonmouth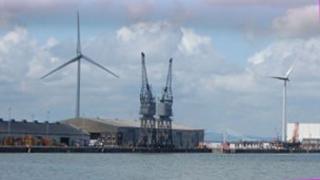 Two wind turbines to be built for Bristol City Council could produce enough electricity for 2,700 homes.
The Liberal Democrat-run council said it believed the turbines, to be built near Avonmouth, would be the first local authority-owned wind farm.
There are already three turbines close to the site owned by Ecotricity.
Council leader Barbara Janke said the authority was now inviting interested parties to bid for the project. It is hoped the site will be running by 2013.
'Overwhelming support'
The site for the turbines is just off Severn Road in Avonmouth on the former Shell oil tank site, which is owned by the council.
The coastal setting has good wind exposure and easy links with the National Grid.
Ms Janke added the wind farm would form part of the city's renewable energy agenda.
""Wind turbines are already well established in Avonmouth and the public consultation we held for this project showed overwhelming public support for our plans.
"I'd urge wind developers to come forward to help us deliver this exciting renewable energy project," she added.
Planning permission for the two 131m-high (430ft) turbines was granted in January 2009 despite objections from residents concerned over noise.