Former Bill actor Colin Tarrant dies in Bristol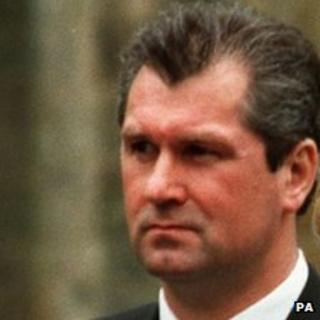 The actor Colin Tarrant, best known for his role as Inspector Andrew Monroe in ITV's police drama The Bill, has died aged 59, his family has confirmed.
No details of the circumstances of his death have been released, but a family statement said he died suddenly at the Bristol Royal Infirmary on Thursday.
Mr Tarrant, who lived in Bristol, had been in a number of shows since leaving the series which was axed in 2010.
The Bill, set in the fictional London area of Sun Hill, ran for 26 years.
Mr Tarrant's family said: "Colin was best known as Inspector Andrew Monroe in the television series The Bill, a part he played very happily for many years.
"Since leaving the series he has triumphed on stage as Brian Clough in The Spirit Of The Man and had recently played John in the enormously successful stage production of Calendar Girls, and to which he would have returned this autumn."
Paying tribute, West End theatre producer David Pugh added: "Colin was a lovely man, he loved the theatre, his politics and his family, our hearts must go out to his son Juma, his partner Sabrina and their baby son Louis."
Mr Tarrant was born in Shirebrook, Derbyshire.