Christopher Jefferies claims police leaked information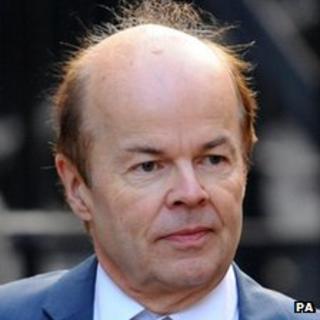 Jo Yeates's former landlord has accused police of leaking information about him to journalists after he was arrested on suspicion of her murder.
In a statement Christopher Jefferies' solicitors said "information had been deliberately leaked" after his arrest.
Daily Mirror editor Richard Wallace told the Leveson Inquiry into press standards that police had given off-the-record briefings on Mr Jefferies.
Colin Port, the Chief Constable of Avon and Somerset Police, denied the claims.
Mr Jefferies is represented by solicitors at the London-based Stokoe Partnership. It wrote an open letter detailing the allegations on behalf of its client.
Mr Port said: "I am aware of the allegations made by the solicitor who has clearly attempted to seize the moment apparently provided by Mr Wallace's presentation at the Leveson Inquiry last week.
"We have conducted a thorough investigation into all of Mr Wallace's assertions. We have not found any substance to the suggestion of off-the-record background briefings by Avon and Somerset Police relating to Mr Jefferies.
"Ryan Parry, the senior Mirror reporter, confirmed in his evidence to the inquiry yesterday [Tuesday] that he had not had any off-the-record briefings about Mr Jefferies.
"I am extremely concerned that the solicitor should be so intemperate and inaccurate in his comments made public. Surely one of the lessons that has been learnt from his client's experience is to treat media commentary with caution."
'Flagrant breach'
Mr Jefferies accepted a libel payout from eight national newspapers, including the Daily Mirror, over false claims they made against him following the murder of his tenant.
The statement from Mr Jefferies' lawyers added leaks by "as yet unidentified individuals" were in "flagrant breach of their duty".
"Our client strongly believes this to be the case, as there was information within the public domain which was only known to those privy to the investigation material.
"Our client is of the view that this information had been leaked and we share that view.
"There needs to be an independent inquiry into this potentially criminal conduct on the part of officers from Avon and Somerset Police, as well as the Crown Prosecution Service.
"As regards any legal action against Avon and Somerset Police for wrongful arrest, this is a matter which remains under review."
Barry Hughes, from CPS South West, said: "There is no truth whatsoever in the serious allegations made against the CPS by the solicitor acting for Mr Jefferies.
'Serious claim'
"I am not aware of any evidence given to the Leveson inquiry to date that has suggested that any members of the CPS have leaked information to journalists.
"I am disappointed that a firm of solicitors should make such a serious claim without referring the matter to the CPS directly."
Mr Jefferies, who owned Miss Yeates's flat at 44 Canynge Road, Bristol, was questioned by detectives for two days before being released.
Dutch national Vincent Tabak was later convicted of Miss Yeates's murder.
During his trial it was revealed that Tabak had implicated Mr Jefferies by telephoning police and making false allegations against him.
Tabak was sentenced to a minimum of 20 years in jail for killing the landscape architect.