Patient booking problem at Bristol hospitals 'fixed soon'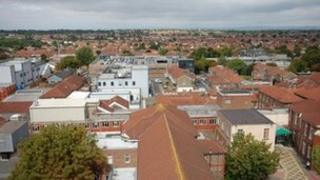 Problems with a patient-booking system at two Bristol hospitals should be resolved within weeks, the trust says.
Staff at North Bristol NHS Trust said the problem had led to some patients missing their operations and the wrong patients being booked for operations.
Medical Director Dr Chris Burton said the trust did not rely on IT systems for safe patient care but the professionalism of its clinical staff.
"I'm very confident patient safety has not been compromised," he said.
The trust said the errors had been introduced because data from its previous bookings system had not been correctly copied.
Apology to staff
Dr Burton said it had been a very difficult time for some staff because trust employees were very proud of the quality of the services.
"There's no doubt over the past few weeks that that has been compromised but it's through their professionalism and hard work that we have maintained the functioning and safety of the organisation... and I very much apologise for the problems that they've experienced at work."
BBC West health correspondent Matthew Hill said one member of trust staff, who wanted to remain anonymous, had said patients were still "being lost in the system" and "staff were walking out because they were so stressed".
Dr Burton said the trust needed to understand exactly what staff's concerns were so IT engineers could help support them.
"I suspect the problem's they've found are largely to do with how they get used to a new system," Dr Burton said.
"It will take people time to get used to the new system - which is a very big change for the trust - and it will take people time to be completely familiar with it."
North Bristol NHS Trust, which provides hospital and community health care to the residents of Bristol, South Gloucestershire and North Somerset, is responsible for running Southmead and Frenchay hospitals.