Bristol council plans cash reward for microchip bins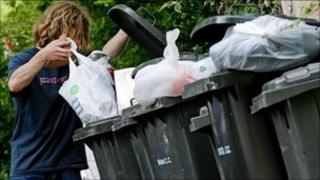 Bristol residents could volunteer to have microchips installed on their bins so they can be weighed in return for rewards, a councillor has said.
The proposal from Bristol City Council could give householders up to £30 a year to boost recycling levels.
Nick Pickle, from Big Brother Watch, said only microchipping a small number of bins could be "expensive".
Councillor Gary Hopkins, who is in charge of waste for the city, said the reward was "comparatively small".
Mr Pickle added that it was "positive" it would be opt-in scheme.
May Gurney took over collecting Bristol's waste and recycling in November 2011.
Then, the firm announced it was planning to replace all 160,000 240-litre black bins with 180-litre bins.
May Gurney said smaller bins would also help boost recycling rates.
The authority is also starting kerbside plastic recycling from Monday.