Clevedon street lights return 'unlikely' says councillor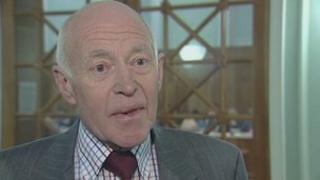 A North Somerset councillor says he thinks it is unlikely a decision to switch off some street lights at night will be reversed.
Campaigners handed in a petition to get overnight street lighting reinstated in Clevedon to the local authority on Tuesday night.
It came after soldier Edward Heal, 19, was killed in a road crash in the town in the early hours of Christmas Day.
Lights are switched off from midnight to 05:00 in some areas to save money.
On Tuesday, petition organiser Carol Dyer said she hoped the council would "sit up and take notice that these supposedly cost-saving cuts could be costing lives".
The council said decisions to switch off street lights were carefully considered and investigated.
Clevedon Central councillor Nick Pennycott said: "Unless they can find a savings replacement of up to £150,000 I cannot see it happening in the near future.
"That is the sort of savings that they're making at present with the lights being turned off in North Somerset."
Trooper Heal, 19, was killed when he was hit by a car on Kenn Road.
He was a soldier in the King's Royal Hussars, based at the Tidworth Camp in Wiltshire, and was preparing for a tour of duty in Afghanistan in March.