Two Bristol primary schools become academies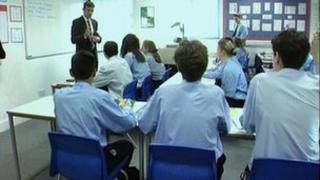 Two Bristol primary schools are leaving the control of the city council to become academies.
The Cabot Learning Federation (CLF) said Hillfields, in Fishponds, and Oldbury Court, in Downend, would join its portfolio from 1 September.
David Carter, CLF executive principal said the new status was designed to give schools more control over issues such as budget, staffing and teaching.
Bristol City Council has not yet commented on the move.
'Take responsibility'
"What we're trying to do is build a community of schools, who all work in the same part of the city, to take responsibility for the education for the young people in this area," said Mr Carter.
"What we need to make sure that happens as an academy sponsor is that we continue to join up the dots between all the different providers in the city.
"Where we've got situations where schools can't cope with the number [of extra students], we're in a position to help with the resolution of that and would be very keen to do it."
But Andy Wooley, south west regional secretary for the National Union of Teachers, said: "It's a very bad thing I'm afraid."
He said: "The whole academy programme is, as yet, under the current government, untested. Many schools have had the common sense not to become academies.
"I think these schools are making a very dangerous move. If things go wrong, there's no coming back."
CLF said parents at both Hillfields Primary School and Oldbury Court Primary School would have the chance to learn more about how the federation and its vision in school meetings in the next couple of weeks.
The federation already runs five academies at middle-school level: John Cabot Academy in Kingswood, Bristol Brunel Academy in Speedwell, Bristol Metropolitan Academy in Fishponds, Hans Price Academy in Weston-super-Mare, and King's Oak Academy in Kingswood.
It is also taking over Culverhay Boys School in Bath which will become co-educational in September this year.