Ashton Vale stadium town green judicial review granted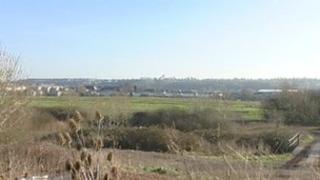 Campaigners who want to block the building of Bristol City FC's planned new stadium have been given permission for a judicial review hearing.
The Championship football club has planning permission for a 30,000-seater development at Ashton Vale.
The council ruled part of the site should be a town green and part of it could be developed by the club.
Campaigners want the whole site to be a town green and are questioning how the council made its decision.
The process will delay the football club's plans to build the new stadium.
'Lawful manner'
The Honourable Mr Justice Collins granted permission for the review but, in his observations, said he thought there should be room for both sides to reach a compromise "to avoid unnecessary cost and to obtain employment advantages".
In a statement, the campaign group's solicitor Adrienne Copithorne said the council had not registered the village green in a lawful manner.
She said campaigners were looking forward to a successful court hearing.
A Bristol City Council spokesman said: "The decision taken by the Public Rights of Way and Greens Committee on 16 June last year was lawful and proper.
"The council will therefore make this case rigorously in its evidence to the Judicial Review."
A Bristol City Football Club spokesman said the club "will watch developments with interest".
"We remain committed to delivering this exciting opportunity for our city," he added.