Occupy Bristol protest camp to end after court ruling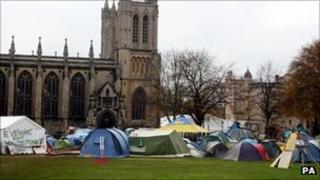 Occupy Bristol has confirmed it will leave its protest camp on College Green, following a court ruling.
A judge at Bristol County Court decided the protesters, who have been camped on College Green since 15 October, should be made to go.
Some protesters staged a sit-in protest following the judgement.
But a statement released by the anti-corporate greed group on Friday said they were preparing to leave the site owned by Bristol Cathedral.
The legal action was brought jointly by the Dean of Bristol Cathedral and the city council.
The statement from the group said a meeting earlier in the week had "agreed that we need to move from College Green".
"A team of people have since been liaising with the council and cathedral to see if we could agree a date to leave.
"One of the key concerns for us at this stage is to minimise any expense to the taxpayer.
"We hoped that the above route would mean that the council would not need to spend unnecessary money on a legal battle.
"Occupy Bristol therefore decided not to legally contest the proceedings [on Friday]."
During the court hearing, six protesters entered the courtroom for 10:00 GMT and eventually left at 14:45 GMT.
They said the did not recognise the judge' s ruling "as he failed to provide and adhere to lawful due process for the defence in this case".
But the Occupy statement confirmed they would move and offered to help re-seed any damaged grass.
The protesters are part of an international movement calling for a fairer society.
The Very Reverend David Hoyle, Dean of Bristol Cathedral, said he wanted the green to be restored as an open public space.