Funeral of Tidworth-based soldier Edward Heal takes place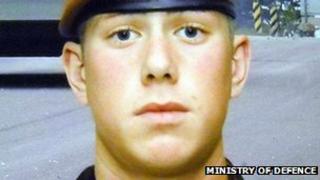 The funeral of a young soldier who died on Christmas Day after being hit by a car has taken place in North Somerset.
Trooper Edward Heal, 19, was killed on Kenn Road, Clevedon, when walking home in the early hours.
He was a soldier in the King's Royal Hussars, based at the Tidworth Camp in Wiltshire, and was preparing for a tour of duty in Afghanistan in March.
A full military funeral was held at the crematorium in Weston-super-Mare.
Nikki Lee, a friend of Trooper Heal's, paid tribute to him, saying: "He was the most loving, caring, person I have ever met.
"If you needed help, or you needed cheering up, Ed was your person."
His death has also resulted in a campaign against reduced street lighting overnight in Clevedon.
Earlier, Ms Lee said that the road he died on was "absolutely jet black" overnight.
Nearly 800 people have since signed an online petition opposing North Somerset Council's plans to keep street lights switched off.