Gloucestershire Cricket Club future in Bristol 'uncertain'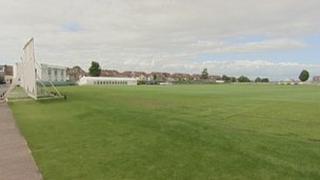 A council's rejection of plans to redevelop the County Ground in Bristol "could be the end of cricket in the city", the club's captain has said.
Writing on Twitter Alex Gidman, captain of Gloucestershire Cricket Club, said it was "unbelievable" Bristol City Council had turned the plans down.
The Liberal Democrat-run council refused the application by six votes to four at a meeting on Wednesday evening.
Club executive Tom Richardson said it was now "considering its position".
Early phone call
When asked if this meant the end of first class cricket in Bristol, Mr Richardson said those thoughts were going through the club's mind at the moment.
"But really what we want to do is consider our position and think this through.
"There was some talk a while ago about moving to Gloucester and they [Gloucester City Council] have already been on the phone early this morning.
"We need to consider our position and we'll do that in the cold light of day," he added.
It is understood, if the club were to move, it could go to the old Wagon Works site in Tuffley, Gloucester.
Mr Gidman, who has played for the club for more than a decade, said he was shocked and disappointed at the decision - both for the club and for sport in the city.
"Without international cricket it really does beg the question whether we can survive here in Bristol.
"I really don't think people understand the seriousness of it and a genuine option is to leave the city," he added.
'Tower over'
The club said to make its proposals work it would have had to build a block of flats on the Nevil Road site.
But this was turned down as councillors argued the plan would have been "disproportionate" to the area, and the flats would tower over neighbouring terraced houses.
There were also concerns over parking, and councillors said not enough was being given back to the community by the club.
Councillor Chris Windows, chair of the planning committee, said the decision had been very finely balanced.
Andy Motherwell, spokesman for the Howzat residents' group, said he was pleased that the club would have to submit a revised planning application.
He said: "The residents want to see a successful club and international cricket retained [in the city], however the clear message from the planning committee was 'not at any cost'."
On Twitter, Mr Gidman said cricket legend WG Grace - once a Gloucestershire player - would have been "gutted" at the news.