Bristol General Hospital redevelopment plans go on show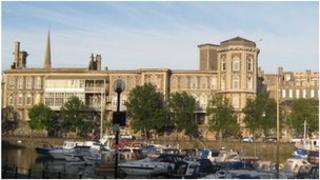 Plans for the redevelopment of Bristol General Hospital have gone on show.
It is the third phase of consultation on the advanced proposals for the Grade II-listed hospital site in Guinea Lane.
The 2.93 acre plot was bought for £6m by City & Country Group, a company specialising in conversions of listed and historic buildings, in July 2011.
University Hospitals NHS Foundation Trust, who owned it, said the hospital would close in 2012 when the planned South Bristol Community Hospital opens.
According to City & Country, its initial plans for the site, released in November 2011, were deemed "positive" by local residents, with more than 55% of respondents stating that they support the scheme.
'Historic landmark'
Features such as the provision of on site parking, preservation of green spaces and the height of the proposed new buildings have been addressed in the revised plans.
Helen Moore, Residential Managing Director for City & Country Group, said: "[The] proposals represent a unique opportunity to secure the future of this iconic and historic landmark, and will ensure that they are preserved for the benefit of future generations."
Following the exhibition, City & Country is scheduled to submit a planning application for the site to Bristol City Council in mid February.
The public consultation will take place in the Lucas Ward of the main hospital building on 12 January.