Plan to invest £50m in Bristol Cadbury site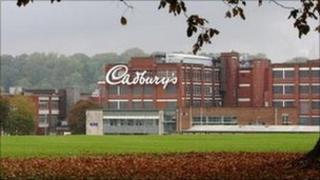 The new owners of the former Cadbury factory in Bristol have announced plans to invest more than £50m in the site.
Taylor Wimpey wants to build 700 homes, business units and community facilities at the Keynsham site.
Managing director Nigel Holland said: "The redevelopment offers an exciting opportunity to create an attractive and integrated new quarter for Keynsham."
The firm has said the public would play a "key role" in shaping its plans before they were formally submitted.
'Significant landmark'
"We have our own initial thoughts for what could be achieved but we are committed to working together with the local community and listening to people's ideas and opinions to ensure that what we create at Somerdale meets the needs of new and existing residents," Mr Holland said.
Taylor Wimpey also hopes the development will create 20,000sq m of commercial space for businesses and also has plans for a primary or nursery school.
A restaurant, hotel or pub may also be included in the proposals.
The Fry Club, a social club and conference facility, may also be rebuilt but its existing sports facilities will be kept.
The former Cadbury factory closed in January 2011 with the loss of 600 jobs.
Mr Holland said: "The Cadbury factory was a significant landmark and we want to ensure that the buildings we create will continue to contribute what is a distinctive part of Keynsham."