Tropicana demolition plans challenge thrown out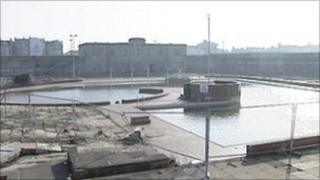 An attempt to save the Tropicana site from being demolished has failed.
The ruling Conservatives on North Somerset Council voted in December to pull down the derelict building on the seafront in Weston-super-Mare.
Opposition members wanted the decision reversed, but a "call-in" vote has failed. Six councillors wanted the site mothballed - but nine disagreed.
A planning committee will now have to approve any demolition of the disused outdoor swimming pool.
The site, which enjoyed its heyday in the 1960s, closed in 2000. Several efforts to redevelop it have come to nothing.